Goat Goodies
Below you will find a variety of items, all meticulously hand-made, all about goats! Postage is additional. Indiana residents please add 7% sales tax.
Handcrafted Goat Milk Soap
Our cold-process soaps are handcrafted using only vegetable oils. All contain soybean, coconut, palm and palm kernel oils and are superfatted with avocado, olive, and jojoba oils. Some also contain cocoa butter. Each bar contains approximately 1 oz of Alpine goat milk. All bars are approximately 4 oz and are $4 each unless otherwise stated.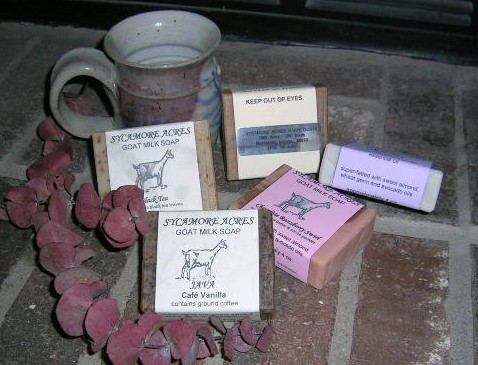 Lavender
A classic scent that is known for its ability to help one relax. Scented with essential oil.
**Currently not available.**
Mocha Java
Garden and Kitchen - For help in removing tough odors (like buck - we've been told it even removes pig scent!) and dirt from hands. Contains ground coffee. While it was developed as a hand soap, some customers use it in the bath to help smooth rough skin on their feet and heels.
Scented with Dark Chocolate fragrance oil. Cocoa powder adds to the fragrance and the rich,
warm color.
Sweet Spice
This soap has the warm scent of "sweet spices" - cinnamon, cloves, ginger and nutmeg. Contains ground cinnamon, cloves, nutmeg and ginger as well as the essential oils of cinnamon and clove. The ground spices impart an attractive speckled appearance.
Chocolate Razzberry Swirl
A pink and cocoa-brown swirled soap with the luscious scents of chocolate and raspberries. Contains cocoa butter and cocoa powder. ***Currently not available***
Patchouli Peppermint
A combination of the deep, earthy fragrance of patchouli with the fresh, invigorating scent of peppermint.
Ground nutmeg gives it a speckled appearance.
Cucumber Melon
Fresh scent of cucumbers and cantaloupe. Contains barley juice powder for a very subtle green color.
Black Tea
The exotic scent of black tea is one that both men and women will enjoy. Contains black tea leaves.
. **Currently available only as "seconds" at a reduced price of $2/bar.**
Kid Gloves
Our best seller! This soap was developed for my niece's 2 year-old daughter who suffers from eczema. This skin-soothing, fragrance-free soap contains cocoa butter, oatmeal powder, calendula petals, tea tree essential oil and vitamin E. ***Currently not available***
Oldies but Goodies
Cold-process soap improves with age. Unfortunately, there is a drawback to using essential oils (as opposed to synthetic fragrance oils) in that the scent fades with time. Occasionally we have available wonderfully mellow but subtly-scented soaps for the reduced price of $2/bar. We also may have irregularly-shaped bars and discontinued scents for $2/bar. Please e-mail for availability.
Goat Greeting Cards, Artwork & Posters
Goat Christmas Cards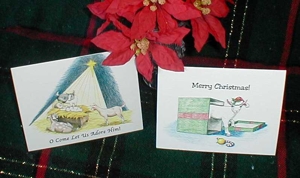 Printed in color on high quality linen paper with envelopes included. Two designs: "O Come Let Us Adore Him" and "Merry Christmas." Blank inside. Six cards/package. Choose three of each design or all of one design. $7.00/pkg
Goat Greeting Cards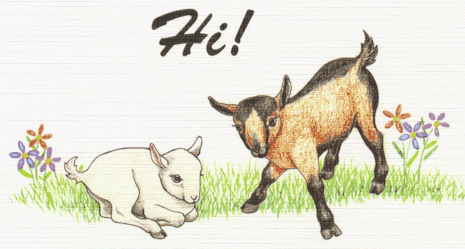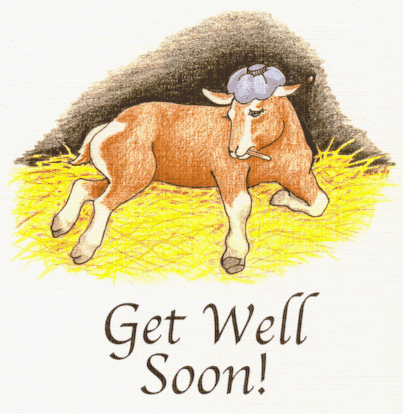 Printed in color on high quality linen paper with envelopes included. Three designs: "Happy Birthday," "Hi!" and "Get Well Soon" Blank inside. Six cards/package. Choose three of each design or all of one design. $7.00/pkg
Goat Breed Prints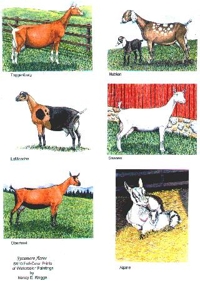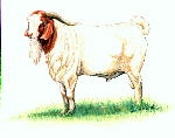 8x10 color prints of dairy breed does or Boer buck. Printed on linen paper. $8.00 each
Dairy Breeds Stamp Poster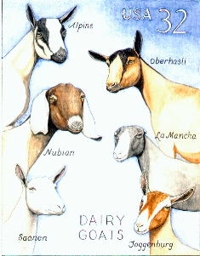 14x17 color poster of the six dairy breed does in a postage stamp motif. $10.00 each
Handcrafted Christmas Ornaments and Magnets

Goat Christmas tree ornaments or magnets handcrafted from poplar wood. Approximately 4" x 4.5" Each goat has a bow and tiny bell around her neck. Alpine, Nubian, Toggenburg, Saanen, Oberhasli, LaMancha, Pygmy, Nigerian and Boer. Send me a photo and I'll custom paint yours. Please indicate whether you want an ornament or a magnet and if you want your goat to have horns or not. $10.00 each
Ordering
E-mail sycamoreacresalpines@gmail.com with your order and mailing address. I will get back to you with your order total (including postage and tax if applicable).
We are not responsible for orders that are lost or damaged by the USPS, so you might consider insuring your package. Please indicate if you
would like your package insured.
Send check or money order made payable to Nancy Knigga to:
Sycamore Acres
7568 W. 250 S.
Russiaville, IN 46979
If you have a PayPal account you may pay using PayPal, however, the fee we are charged will be added to your total. Our account is milkgoats@aol.com. Your order will be sent when your payment is received. Thank you!