Sycamore Acres Farmstead Raw Goat Milk Cheese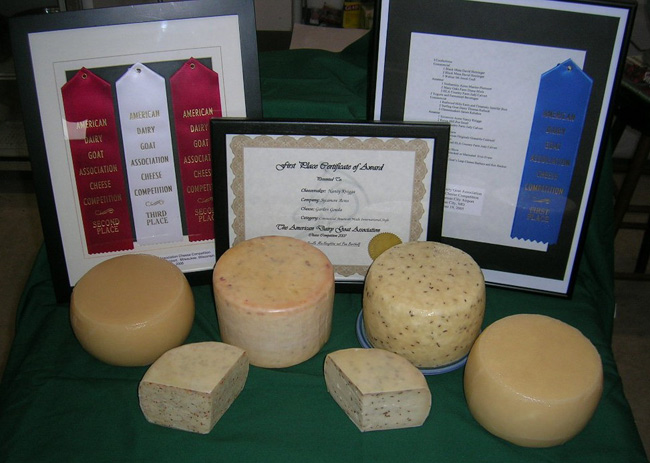 We have entered at least one item in the annual American Dairy Goat Association cheese competition since 2004. Competing in the amateur division, we have placed first twice, second twice and third once. The past two years we have competed in the commercial division and have been awarded a first place with our Garden Gouda, a second place with our Formaggio Caprino, and a third place with our Caraway Gouda.
While we are still licensed to sell our cheese, we have decided to forego making sellable cheese this year. Since the amount of cheese we are able to produce is so small, the cost of the required testing (specifically the antibiotic residue testing) has made it impossible for us to make a worthwhile profit. This is unfortunate since the antibiotic residue testing is not necessary in our case; we are the stewards of our goats and therefore we know that there are no antibiotics in our milk. However, it is the law that this testing must be done - there is no exception for farmstead cheese makers.
We still have cheese made in 2008 available for sale. It has been aging for at least seven months (as of June 2009) and therefore has developed a lot of flavor. Anyone interested in purchasing our cheese should contact us via e-mail (milkgoats@aol.com).
Sorry - Sold Out